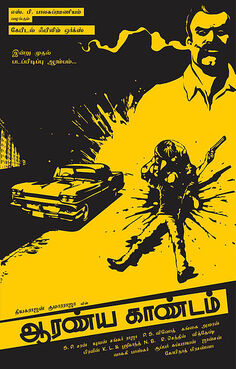 Movie: Aaranya Kaandam / Anima and Persona
Tamil:ஆரண்ய காண்டம்
Director:Thiagarajan Kumararaja
Writer: Thiagarajan Kumararaja
Producer: S. P. B. Charan
Cinematographer: P. S. Vinod
Release Date: October 30, 2010 (SAIFF)
Runtime: 152 mins
Production Company: Capital Film Works
Distributor: Capital Film Works
Language: Tamil
Country: India
A sixty-year old don's waning libido for his twenty-year old captive mistress. A head-henchman plotting a deal with profit sharing in mind. The minion, sees it as the law of life; the old don, a potential threat. A father and son arrive from a village to compete in a rooster-fight, their last hope of survival. The undercurrents at the fight tug at the failed libido of the old don. Now, every twist and turn is a potential threat. The captive mistress finds true love in a dim-witted idiot. The boy works for the don. The idiot-boy has a plan that leads to a "lived happily ever after" for the lovers. In the background, is a city that is sweaty and grimy with rustic human beings and millions worth of cocaine. In the Jungle called life, man continues to draw from the animal within.
Film Festivals
Edit
Grand Jury Award for Best Film at 2010 South Asian International Film Festival