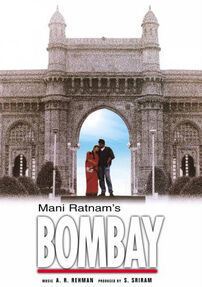 Movie: Bombay
Tamil:பம்பாய்
Director:Mani Ratnam
Writer: Mani Ratnam
Producer: S. Sriram
Cinematographer: Rajiv Menon
Release Date: March 10, 1995
Runtime: 138 mins
Distributor: Ayngaran International,Aalayam
Language: Tamil,Telugu and Hindi
Country: India
A Hindu man and a Muslim woman fall in love in a small village and move to Mumbai, where the have two children. However, growing religious tensions and erupting riots threaten to tear the family apart.
1.The film is centred on events, particularly during the period of December 1992 to January 1993 in India, and the controversy surrounding the Babri Masjid in Ayodhya and its subsequent demolition on December 6, 1992. Increased religious tensions in the city of Bombay (now Mumbai) led to the Bombay Riots.