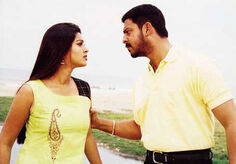 Movie: Bose
Tamil:போஸ்
Director:Senthil Kumar
Writer: Senthil Kumar
Producer: J.H Murali
Cinematographer: Vijay Milton
Release Date: 2004
Runtime: 165 min
Production Company: : Sri Mahalakshmi Combines
Language: Tamil
Country: India
Bose follows the path of a soldier after he is fired after an incident where he injures a politician attempting to rape a girl. The politician hires thugs to take him down while the soldier attempts to take down the greedy politician.
Related titles
Edit
1. Yodha (2010)
Ad blocker interference detected!
Wikia is a free-to-use site that makes money from advertising. We have a modified experience for viewers using ad blockers

Wikia is not accessible if you've made further modifications. Remove the custom ad blocker rule(s) and the page will load as expected.