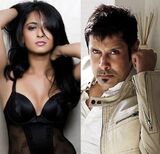 Movie: Deiva Magan
Director:A. L. Vijay
Writer: A. L. Vijay
Producer:Mohan Natarajan
Cinematographer:
Release Date: October 2011
Language: Tamil
Country: India
Vikram plays the role of a mentally challenged person who struggles for guardianship of his seven year old daughter after his wife passes away ==Notes==.
it based of Hollwyood Movie I Am Sam (2001)
Ad blocker interference detected!
Wikia is a free-to-use site that makes money from advertising. We have a modified experience for viewers using ad blockers

Wikia is not accessible if you've made further modifications. Remove the custom ad blocker rule(s) and the page will load as expected.