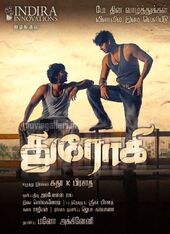 &nbsp
Movie: Drohi
Tamil: துரோகி
Director:Sudha K. Prasad
Writer: Sudha K. Prasad
Producer: Mano Akkineni
Cinematographer: Alphonse Roy
Release Date: September 10, 2010
Production Company:Indira Innovations
Language: Tamil
Country: India
Samy (Srikanth) and Karuna (Vishnu), who grow up in Royapuram slums, are best pals and attend the school together. They get the shock of their life when their class teacher (Pooja) is brutally murdered by a thug for informing about him to the authorities.The young boys kill the thug. During police interrogation, Karuna drops the name of Samy saying he was the one who commited the murder. This makes Samy to hate Karuna and they grow up as bitter enemies.Samy becomes the henchman of dhadha Naryananan (Thiyagarajan) while Karuna becomes an IPS aspirant. While Malar (Poorna), Karuna's sister fall for Samy, mad for Karuna is Sruthi (Poonam Bhajwa).
Srikanth who played Sami an Brahmin boy turned gangster in real life Srikanth come from Telugu Brahmin family
Ad blocker interference detected!
Wikia is a free-to-use site that makes money from advertising. We have a modified experience for viewers using ad blockers

Wikia is not accessible if you've made further modifications. Remove the custom ad blocker rule(s) and the page will load as expected.