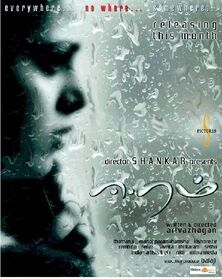 Movie: Eeram / Wetness
Tamil:ஈரம்
Director:Arivazhagan Venkatachalam
Writer: Arivazhagan Venkatachalam
Producer: J.H Murali
Cinematographer: Manoj Paramahamsa
Release Date: 11 September 2009
Runtime: 164 min
Production Company: S Pictures
Language: Tamil
Country: India
The movie begins with the death of Ramya (Sindhu Menon) and Vasudevan (Aadhi), a tough cop, takes up the task of investigating the case. Initially it was thought to be a suicide. But Vasu suspects some foul play.
The needle of suspicion falls on Ramya's husband Bala (Nandha) and a few of her neighbours. But subsequent murders in the apartments deepen the mystery. The way the killings take place adds to the confusion and makes the narrative interesting.
A flashback reveals that Vasu was Ramya's lover a few years ago. A determined Vasu goes hammer and tongs to trace the killer. And he is shocked to find out the reason behind her murder.