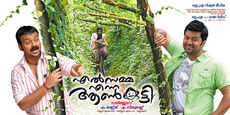 Movie: Elsamma Enna Aankutty/A Boy named Elsamma
Malayalam: എൽസമ്മ എന്ന ആൺകുട്ടി
Director:Lal Jose
Writer: M. Sindhuraj
Producer: M. Renjith
Cinematographer: Vijay Ulakanth
Release Date: 9 September 2010
Distributor: Lal Creations
Language: Malayalam
Country: India
Elsamma (Ann Augustine) is an all rounder in the real sense of the term; she is a newspaper girl and a reporter too. She has the gumption to take on the local politician played by Jagathy Sreekumar as well as the rich vendor of illicit liquor played by Vijayaragavan, in the village. She has also taken the charge of her three younger female siblings. The ubiquitous romance never really happens for her even though she has a silent admirer in Palunni (Kunchako Boban), a dairy farmer and a milk vendor, who is her professional companion as well as friend.
We expect the situation to change for the worse when city bred Ebby (Indrajith) and his sister Sherin come to live in the neighbourhood with their friends in town.