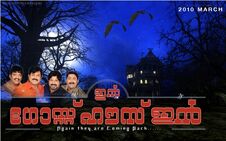 Movie: In Ghost House Inn
Malayalam:ഇൻ ഗോസ്റ്റ് ഹൗസ് ഇൻ
Director:Lal
Writer: Lal
Producer: Lal,P.N. Venugopal
Cinematographer: Venu Isc
Release Date: March 25, 2010
Production Company: Lal Creations, PNV Associates
Distributor: PJ Entertainments Europe
Language: Malayalam
Country: India
In Ghost house Inn as always revolves around the 'famous four' Mahadevan, Govindankutty, Appukuttan and Thomaskutty. This time the story is about a huge bunglow that Thomaskutty had brought with the money that he got from the climax of 2 Harihar Nagar. He plans to make it a resort. But to his bad luck the bunglow was a haunted one. It had some dreadful stories linked with it from decades. A murder had happened in that bunglow some years before. Knowing this he calls up his friends and the three comes with their families to prove him that his thinking was wrong. But to their bad luck they find that even they were wrong.
Related Notes
Edit
1. In Harihar Nagar (1990)
2. To Harihar Nagar (2010)
Ad blocker interference detected!
Wikia is a free-to-use site that makes money from advertising. We have a modified experience for viewers using ad blockers

Wikia is not accessible if you've made further modifications. Remove the custom ad blocker rule(s) and the page will load as expected.