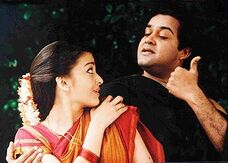 Movie: Iruvar/The Duo
Tamil:இருவர்
Director:Mani Ratnam
Writer: Mani Ratnam,Suhasini
Producer: Mani Ratnam,G. Srinivasan
Cinematographer: Santosh Sivan
Release Date: January 14, 1997
Runtime:158 mins
Distributor: Madras Talkies
Language: Tamil
Country: India
A struggling actor Anandam (Mohanlal) is befriended by up and coming grassroots leader and scriptwriter Tamilchelvam (Prakashraj). As Anandam grows in popularity, he becomes an important tool for the Tamilchelvam and his party in wooing the public. After the death of the party leader Annadurai (Nasser), both protagonists find themselves in candidacy for the top spot, the schism is inevitable.
1,The film is a fictionalized account of the lives of 1980s Tamil Nadu political icons M. G. Ramachandran and M. Karunanidhi, continuing the influential relationship between Tamil cinema and Dravidian politics.

2, it aslo mark debut of Aishwarya Rai who was former Miss World 1994 who actullay aspring actress