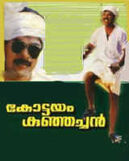 Movie: Kottayam Kunjachan
Director:T. S. Suresh Babu
Writer:T. S. Suresh Babu
Producer: M. Mani
Cinematographer: Anandkumar
Release Date:15 March 1990
Production Company: Sunitha Productions
Language: Malayalam
Country: India
The movie is about Kottayam Kunjachan is an orphan who looses his parents at his young age. He goes to the town with his servant Bisco because Kunjachan his enemies forced him to move. There Kunjachan starts a driving school. He meets Michael and his wife Aleyamma who had 7 younger brothers. Later Kunjachan helps them financially and hires aspiring singer Joy but the couple\'s daughter Mollykutty makes false accusation on Kunjachan and says that she loves him. She did this to escape from the marriage which was planned for her. Kunjachan who was staying in the rented house of Michael was thrown out of the house. Later, Michael and Korah gets killed and Mollykutty was kidanpped by Jimmy Pappan. How does Kunjachan rescue them forms the remaining story?
spin-off to Uppukaran Brothers (1993) by same director with Diffenrt cast in 2010 the offical sequal of Kottayam Kunjachan was annocued was Uppukandam Brothers : Back In Action
1 Related titles
1.Uppukandam Brothers : Back In Action (2011)

[[Category:1990 Malayalam films]]