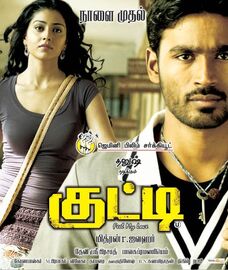 Kutty (Dhanush ) is a happy-go-lucky, college-going youth with an attitude. He falls in love with Geeta (Shriya Saran) at first sight. He proposes to her in front of her boyfriend Arjun. She bluntly refuses. The theme of the film is Kutty's philosophy in life--one way love. While he keeps extolling and spreading the virtues of his philosophy, he also teases Geeta's boyfriend at every available opportunity about why he should fee threatened by Kutty's one-sided attempts to woo the uninterested Geeta, if Arjun so strongly believes in the bond of true love between them. What follows is a comic roller coaster. The rest of the film is all about how Kutty wins Geeta with his positive outlook.
1. Remake of Telugu film Arya (2004) who become hit in Kerala
2. Related titles
Ad blocker interference detected!
Wikia is a free-to-use site that makes money from advertising. We have a modified experience for viewers using ad blockers

Wikia is not accessible if you've made further modifications. Remove the custom ad blocker rule(s) and the page will load as expected.