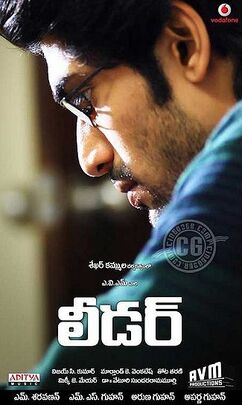 Movie: Leader
Telugu:లీడర్
Director:Sekhar Kammula
Writer: Sekhar Kammula
Producer: M. Saravanan ,M. S. Guhan ,Aruna Guhan ,Aparna Guhan
Cinematographer: Vijay C. Kumar
Release Date: February 26,2010
Production Company: AVM Productions
Language: Telugu
Country: India
This movie starts off with the assassination of Sanjeevayya (Suman), the Chief Minister of Andhra Pradesh and the subsequent turmoil in the organization of the state government. The last wish of Sanjeevayya is for his son, Arjun Prasad (Rana Daggubati), to become the next Chief Minister. However, Arjun's cousin Dhanunjay (Subbaraju) has his own dreams of becoming the Chief Minister. Arjun realizes that it's not in the best interest of the state for Dhanunjay to become the CM. To become the CM, he uses the black money his father earned as the CM in buying the MLAs and ends up being the CM. However, he soon runs into problems running the government as his dream of eradicating corruption does not go well with the legislators. How he resolves those challenges is the rest of the movie.
1.the film is mark debut of Rana Daggubati (grandson of popular producer D. Ramanaidu)