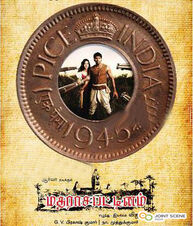 Movie: Madrasapattinam ( Madras Town)
Tamil:மதராசப்பட்டினம்
Director:A. L. Vijay
Writer: A. L. Vijay
Producer: Kalpathi S. Aghoram
Cinematographer: Nirav Shah
Release Date: 9 July 2010
Runtime: 162 mins
Production Company:AGS Entertainment
Distributor: Red Giant Movies ,Ayngaran International
Language: Tamil
Country: India
A film set in 1940s India, during the country's struggle for independence. The young daughter of an English governor falls in love with a local Indian boy.
1. The Film is final work of Cochin Hanifa before he passed away on February 2 2010
Ad blocker interference detected!
Wikia is a free-to-use site that makes money from advertising. We have a modified experience for viewers using ad blockers

Wikia is not accessible if you've made further modifications. Remove the custom ad blocker rule(s) and the page will load as expected.