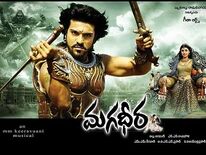 Movie: Magadheera
Telugu:మగధీర
Director:S.S. Rajamouli
Writer: Vijayendra Prasad,S.S. Rajamouli
Producer: Allu Aravind,B.V.S.N. Prasad
Cinematographer: Senthil Kumar
Release Date: 30 July 2009
Runtime: 166 mins
Production Company: Geetha Arts
Distributor: Vishaka Movies
Language: Telugu
Country: India
It is the year 1609. Bhairava (Ram Charan Teja), a warrior wants to marry a princess from Udaygarh called Mitravinda (Kajal Agarwal). Her relative Randheer (Gill Dev) tries to commit lust on her and both men fight until the end of their lives. Their love remains unfulfilled. The person who cremates their bodies, Sher Khan (Srihari) wishes that they should be reborn and reunite as couple.
Year 2009, Harsha (Ram Charan Teja) is a biker who accidentally meets up with Indu (Kajal Agarwal) on a rainy day. He touches her and it automatically creates sparks in his body, sensing past connections among them. While they are dating Indu's cousin, Billa (Gill Dev) also have similar interest on her. As Harsha remembers his past he must now competes with Billa in order to marry Indu. Can the lovers reunite in the end?