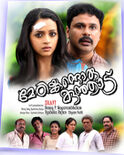 Movie: Marykkundoru Kunjaadu / Mary has little lamb
Malayalam:മേരിക്കുണ്ടൊരു കുഞ്ഞാടു്
Director:Shafi
Writer: Benny P Nayarambalam
Producer:Vaishakh Movies
Cinematographer: Shyam Dutt
Release Date: December 25 2010.
Production Company:Vaishakh Movies
Language: Malayalam
Country: India
The protagonist Solomon (Dileep) detests violence and does not react to people who are physically stronger than him, even if it means bearing insults. This timidity is justified by his protected upbringing.
Solomon, who pretends to be creatively inclined and has directed a few episodes of a spiritual serial for a television channel to raise money for buying a golden cross for his church, is in love with Mary (Bhavana), the daughter of a rich man (Innocent). She has three brothers who are prone to violence. This is how he gets the nickname Mary's little lamb (the title of the film).
There is one more complication. Solomon's mother and Mary's father were in love when young. But his mother married the sexton (Vijayaraghavan) out of rage, because Mary's father impregnated his maid in a drunken state and was forced to marry her.
Solomon's life changes for better when Jose (Biju Menon) -- believed to be his elder brother who had gone missing as a child after a fight with his father -- enters the scene. Solomon now confidently walks around the village with the backing of a demented Jose.