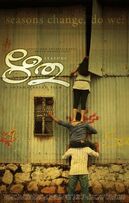 Movie: Ritu/Seasons
Malalayalm:ഋതു
Director:Shyamaprasad
Writer: Joshua Newtonn
Producer: Vachan Shetty
Cinematographer: Shamdat
Release Date: August 14 2009
Runtime: 120 mins
Production Company: Innostorm Entertainment Group
Distributor: Playhouse Release
Language: Malayalam
Country: India
The story of the journey of the three young people into the wonders of life. It tells the tale of three young friends who move through a fascinating season in their lives, different from the earlier one they really cherished. Seasons of life change. Friends change. You change. Perhaps, you will someday, reflect upon yourself to check and see which one of them is you. CHANGE is what we all cherish. But do we really understand the changes we go through in our lives? Look out of the window pane near you. Do you see life? Do you see the seasons? Are they changing? Trust us: it would be refreshing and revealing.
1.This is the first time director Shyamaprasad has chosen to film an original screenplay. All of his previous films were adaptations of published novels or plays