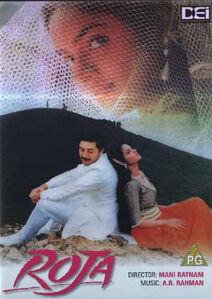 Movie: Roja / The Rose
Tamil:ரோஜா
Director:Mani Ratnam
Writer: Mani Ratnam,Sujatha Rangarajan
Producer: K. Balachander,Pushpa Kandaswamy
Cinematographer: Santosh Sivan
Release Date: 15 August 1992
Runtime:127 mins
Distributor: Kavithalayaa Productions
Language: Tamil
Country: India
Roja, a young woman born and brought up in Southern India, prays that the handsome young man coming to see her sister will be her future brother-in-law, only to have the tables turned on her when he openly choses her over her sister (as her sister loves another). So Roja marries Rishi and they leave the village to settle in the city, where both fall in love. Rishi, who works for the Indian Government, is instructed to go to the troubled state of Kashmir on a classified mission. Roja also goes along. Then her innocent world is shattered when Rishi is abducted and held for ransom by a group of jihadist militants who want an independent Kashmir and the release of a terrorist held by the Indian military forces. Will the passionate appeal of this young woman move cold and ruthless military and politician's hearts and minds?
1. The film was subsequently dubbed in Hindi, Marathi, Malayalam, Kannada, and Telugu.
2.A. R. Rahman, who debuted in Tamil as a music director with this film