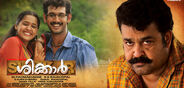 Movie: Shikkar: The Hunt
Malayalam:ശിക്കാർ
Director:M. Padmakumar
Writer: S. Suresh Babu
Producer: K. K. Rajagopal
Cinematographer: Manoj Pillai,Shajil Rajagopal,Vinod Guruvayoor
Release Date: 9 September 2010
Production Company: Sreeraj Cinema
Distributor: Maxlab Cinemas and Entertainments
Language: Malayalam
Country: India
The story of Shikkar takes place at Chittazha, a mountainous terrain where bamboo reeds flourish. After much wandering from place to place, Balraman (Mohanlal) a lorry driver has finally settled down with his daughter (Ananya) at Chittazha. Peace evades the man as his past catches up with him, and Balaraman has to take risky everything to safeguard his own life and that of his daughter's.
Ad blocker interference detected!
Wikia is a free-to-use site that makes money from advertising. We have a modified experience for viewers using ad blockers

Wikia is not accessible if you've made further modifications. Remove the custom ad blocker rule(s) and the page will load as expected.