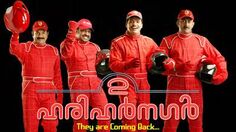 Govindankutty, who is in Bangalore and Mahadevan, who is in the Gulf, reach Kerala and is met by their friend Appukuttan, who now is a dentist. They are here to give a pleasant surprise to Thomaskutty by attending his betrothal ceremony. They stay on to spend a few days together before Thomaskutty's marriage. They put up in Govindankutty's villa in Harihar Nagar, where they had stayed as tenants years back. To make the most of their stay together they decide on pulling some pranks. It is at this juncture that a young girl, Maya, comes to stay in Harihar Nagar.
Maya leaves flowers at their doorstep, with a card stating that she had come to see them. They are reminded of the Maya who had come into their lives years back and go seeking her, but when they meet her they realize it's a different girl. They are hell bent on wooing her just the same, like they used to do years back. From here the story of '2 Harihar Nagar', takes off with several twists and turns along the way.
1 Related titles
==Trailer==thumb|262px|right
Ad blocker interference detected!
Wikia is a free-to-use site that makes money from advertising. We have a modified experience for viewers using ad blockers

Wikia is not accessible if you've made further modifications. Remove the custom ad blocker rule(s) and the page will load as expected.