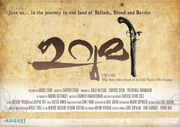 Movie: Urumi /The Boy Who Wanted To Kill Vasco Da Gama
Malayalam:ഉറുമി
Director: Santosh Sivan
Writer: Shankar Ramakrishnan
Producer: Prithviraj Sukumaran ,Santosh Sivan,Shaji Natesan
Cinematographer: Santosh Sivan
Language: Malayalam,Tamil,English
The fictional story takes place in 15th-century Kerala; it is about four young men who plot to assassinate Vasco Da Gama.
The film is produced by Prithviraj, Shaji natesan and Santosh Sivan under their new production company, August Cinema.
The movie is being made at a budget of more than 22 crore rupees, making it the second most expensive Malayalam film ever made after Pazhassi Raja.
The film is being simultaneously made in English under the title The Boy Who Wanted To Kill Vasco Da Gama
Ad blocker interference detected!
Wikia is a free-to-use site that makes money from advertising. We have a modified experience for viewers using ad blockers

Wikia is not accessible if you've made further modifications. Remove the custom ad blocker rule(s) and the page will load as expected.